Sustainable Nordic Design
Design that engage people and develop communities – that was the heading when Daniel Byström from DBD/Design Nation was invited as key note speaker at Business Swedens event; Scandinavian Light and Design in Vienna November 7th 2013. Arranged together with the Swedish and Norwegian Embassies. About 500 registered guests was attending the event that was held in fantastic Semperdepot – Academy of Fine Arts Vienna. The guests was architects, designers, purchasers. Among the other speakers were norwegian designer Vibeke Skar and  Sweden's Ambassador to the United States 2007-2013 Jonas Hafström. Participating exhibitors was Swedish and Norwegian producers of furnitures and lightnings.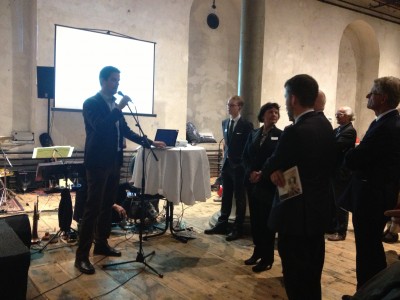 Except of showing the characteristics of nordic design aesthetics, Daniel talked about our way of design thinking, the reasons and methods when working in design processes. He explained what community design is about, and how it always must be a sustainability focus in several layers in every design project. In his role as chairman of the Swedish Association of Designers, Daniel also showcased good design examples from contributed from Swedish design studios. There were 65 examples containing everything from sustainable products, concepts, fashion, graphic designs, packaging, services. The speak was focusing on the question – What can design do?  The question isn't what design is, but what design can do. Designers are practitioners of an applied process of creative skills; researching, analyzing, evaluating, synthesizing and then conceptualizing, testing and communicating solutions. We live in a world full of opportunities. Design can be used to connect to people, engage and develop communities and regions. How do we utilize the creativity of the community? How do we create shared visions? How do we make real sustainable products and environments?